Here I am having traditional Taiwanese Fan Tuan for breakfast, its a glutinous rice ball with fillings, this one has prickles, you tiao, some soy pork floss and sesames. Of course, this one kicks Chu Ma Ma's (the supposedly authentic Taiwanese cuisine restaurant in Sydney) ass, and it's triple the size. After this, we had a nice walk up to the mountains.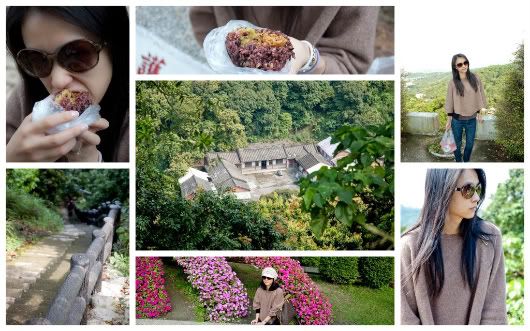 in Taichung
We also went to the Nan-Tou County, it's near ChinJing veteran farm. We stayed at the
Na Lu Wan villa
, and got the honeymoon suite ;) the view was superb! and only paid half price cause Kevin's aunty is friends with the owner. Yay!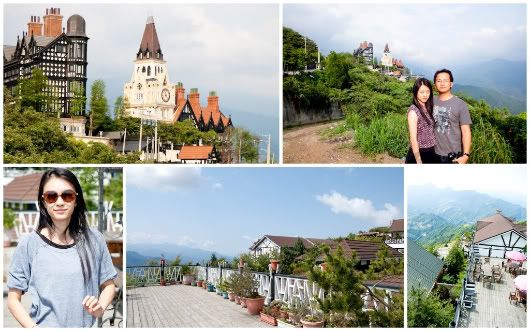 view from Na Lu Wan Villa
@the top deck of Na Lu Wan Villa
an old train station, is now a tourist attraction
We made pottery. I used to be very good at pottery when I was in school, I still am very good at it. Mine turn out better then Kevin's =D
Wood craved artworks. AMAZING!
piles of lychee, big buddha, tea sets and a smoking frog.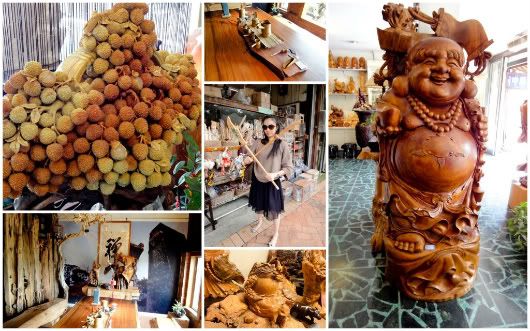 a cactus farm, everything made from cactus, including cactus ice cream. I think this was near Hualien.
@Taroko National Park, goregous view.
@蘇澳漁港 Seaport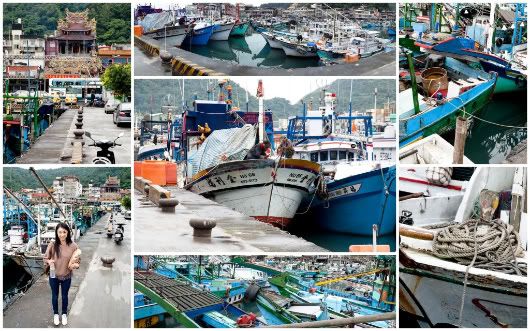 There are many temples in Taiwan, and being buddhists, we visited many buddhist temples. This one is a Mazu Temple 天后宮 @ 蘇澳漁港
...and this buddhist temple is actually built by Kevin's grandfather in the 1960s.
Beautiful isn't it?
by the sea in Da An
If you ever go to Taiwan, you must MUST try the pastries from
裕珍馨
in Dajia
.
THEIR
奶油酥餅
IS
SIMPLY THE BEST SWEET CREAMY PASTRY IN TAIWAN AND THE WHOLE WIDE WORLD!!!
This is what I would want to eat just before I die.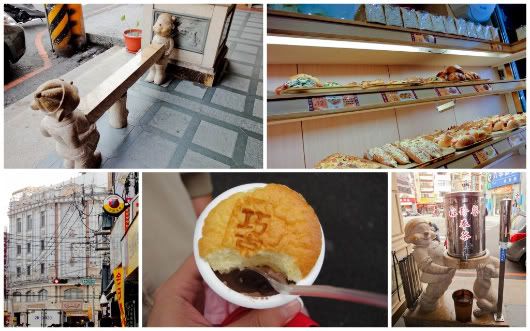 oh, and here are some of behind the scene shots of the wedding photos.
We had great fun at the photo shoot, the staff were so sweet. We liked our photographer very much, her nick name is "Lin Sir" as she can be a bit man-ish. We clicked right away. When they found out we were only in Taiwan for 4 weeks, and getting married just 8 days after the photo shoot, their jaws dropped, but still managed to prioritise our photos so everything can given us before we left Taiwan. This means a team of people working back to 2am in the morning, at no extra cost. So touched, told you the Taiwanese were nice people. Lin Sir also asked if I was interested in doing a set of photos for them as their advertising campaign, and get paid for it. Wish I could, but no time. It would have been fun!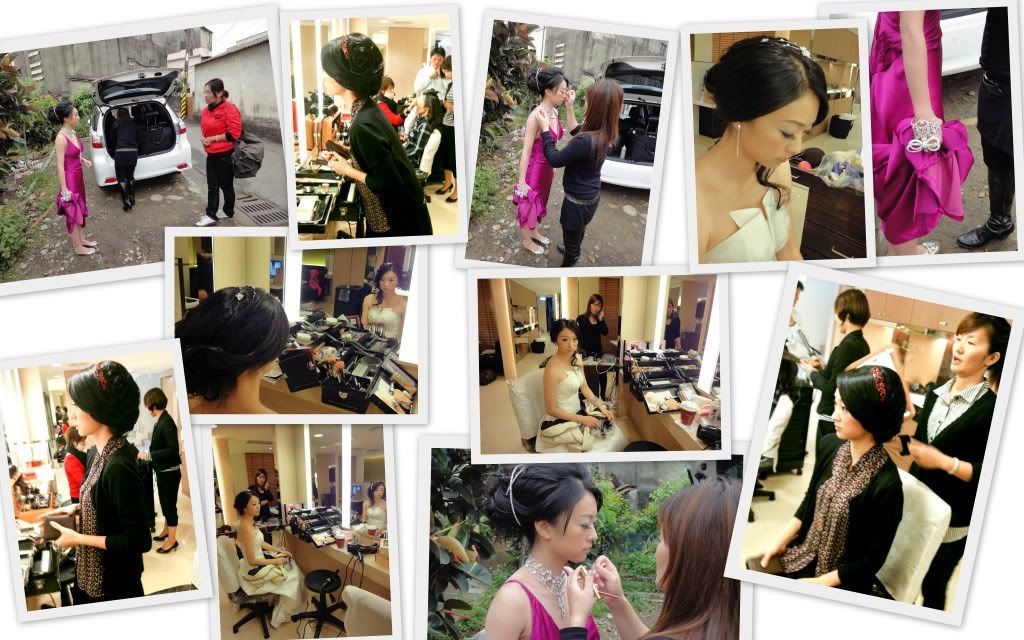 I did a lot of shopping, I particularly liked the Shili night market, yummy street food, fashion accessories, clothes, and other random stuff at bargain prices. However, I was not a fan of Ximen Ding. I was so excited to go there, it turned out to be a little disappointment. Mainly due to the fact that I felt so OLD there. It's a funky place for the teenagers to hang, and I am no teenager!
Also went to Yang Ming Shan for dinner with friends. Lovely view of Taipei city at night, and very silly of us for not we taking our camera that night.
And of course I had to bring back a souvenir from our honeymoon. A little something from Chanel. Camellia embossed bi-fold wallet =D I took these pictures with iPhone, the colour is completed off. It's suppose to be taupe, and the inside is pink.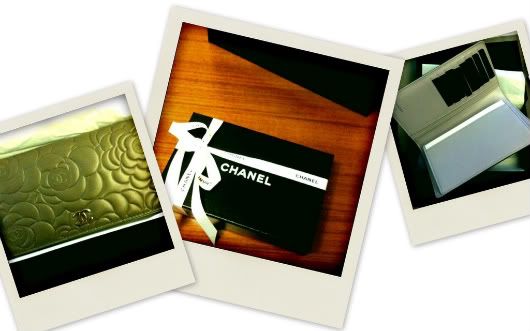 I so enjoyed Taiwan, and want to go back again. Hopefully soon =D